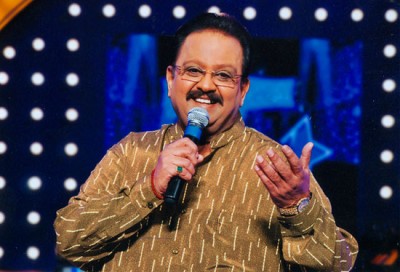 The most famous playback singer in Andhra history, S.P. Balasubramanyam is a state and national treasure.
Famous throughout India and among Indians around the world, the Nellore native is a peerlessly prolific song-artist and a prodigious talent. Indeed, the sweetness of his deep voice is matched only by the sweetness of his mother tongue Telugu, which he loves.
Background
Sripathi Panditaradyula Balasubramanyam was born in Konetammapeta village, Nellore district in 1946. The son of a Harikatha artist, S.P. Sambamurthy, he hails from a musical family. His elder sister Sailaja is also an accomplished playback singer, and both were known to serenade their hometown with their innate musical abilities.
While he had been singing since childhood, he was not classically trained, and therefore attained recognition through his raw talent and practice. Ironically, the man who would virtually monopolize playback singing for decades initially studied to be an engineer. His first big break came after he entered a Chennai talent contest as a fluke and was later selected to sing for a Telugu film.
Achievements

Gaana Gandharva S.P. Balasubramanyam
A recognized exemplar in not only Tollywood, but in all the various Indian industries on both sides of the Vindhyas, he made a huge splash in Hindi films throughout the 90s. In the heyday of Maine Pyar Kiya and Hum Aap Ke Hai Kaun, he was Salman Khan's "romantic voice". Balu was most recently recorded again in Hindi, for Chennai Express, after a gap of 15 years.
Perhaps his most recognizable—and most scintillating—performance was in the 1979 classic film Sankarabharanam.
Instantly recognizable, SP gaaru's voice has graced cinema throughout the country. While his first and widest impact was made in Telugu, his praises are sung in Tamil and Hindi to this day. Indeed, he has been referred to as the "Gaana Gandharva" for his ubiquity and unique voice in Indian playback singing.  Having dominated Telugu cinematic singing for 30 years, he is closely associated with Chiranjeevi songs as well as Kamal Haasan hits (in Telugu and Tamil). Moreover, mention memorable Hindi films since the late 80s, and instantly veritable anthologies of SPB songs will come to mind.
He sang maximum songs for Salman Khan in the early 90s, famously being the "Voice of Sallu" in such touchstone hit films as Saajan.

Aside from his glorious reign as playback king of the 90s, Balasubramanyam gaaru is also a noted, self-taught composer. He scored music for over 50 films throughout the South. Appropriately, for the son of a Harikatha artist, SPB is also an accomplished cinema artiste, having acted in 65 films (Telugu, Tamil, and Kannada).
He was recognized by the Guinness World Book of Records for recording the highest number of songs (over 40,000) as well as most songs recorded in a day (21 for Kannada). SP has sung in a plethora of languages including Telugu, Tamil, Kannada, Malayalam, Hindi, Tulu, Oriya, Assamese, Badaga, Sanskrit, English, Konkani, Bengali, Marathi and Punjabi. His facility with singing in so many bhashas comes from his willingness to take an interest to learn and respect each one in which he sings. He won the national award for Playback singing 6 times, and is the only one to have won the award in four languages.
For his contributions to Music, he was awarded an Honorary Doctorate by Potti Sriramulu University, as well as the Padma Sri in 2001 and the Padma Bhushan in 2011 by the Government of India.

Legacy
 I had the opportunity to sing songs in different languages…you should love and respect the language to be able to sing with the right emotions
While the age of ballads may have passed, S.P. Balasubramanyam is a balladeer par excellence. His unmatched voice and genuine love for music (and each language he sings in) comes across in every performance. To produce so prolifically, perform so skillfully, and emote so sincerely is a rare thing in music, as is such natural talent.
His signal effort in preserving the cherished tradition of Sangeeta among middle class Andhras cannot be overplayed. From Super Singer to Padutha Theeyaga (Sing Sweetly), Telugus from around the world (and in both Telugu states) have been inspired to take up the mantle he has worn for so long.
What ultimately stands out about SP gaaru, is his love of our music and virtuouso abilities without prior technical training in classical Indian music. While it is this very love that ultimately drove him to formally learn Carnatic, his experience demonstrates the importance of society properly cultivating such abilities early on through widespread instruction in classical music.
That he was able to rise in both the Telugu and Hindi film Industries on sheer talent and grit is testament to his singing ability. The mark he has made trenchantly shows not only in Hyderabad, and Chennai, but Mumbai as well when he recently returned to singing in Hindi films with 2013's Blockbuster Chennai Express.
If Balamurali Krishna is the "voice of the heavens", then Balasubramanyam is the "voice of the people". While the former is classically trained in the Carnatic school and a paragon of High Culture, S.P. Balasubramanyam is a virtual virtuoso of Pop Culture talent. He is without a doubt the most prolific vocalist in all of Indian cinema, and has a peerlessly masculine metha thanam (sweetness) in his voice that is recognizable all over the country.
He is inarguably Andhra's greatest and one of India's greatest playback singers.
References:
http://www.imdb.com/name/nm0004416/
http://www.thehindu.com/todays-paper/tp-national/tp-andhrapradesh/telugu-will-thrive-forever-says-balu/article1695807.ece
http://www.indicine.com/name/s-p-balasubramaniam/c
http://timesofindia.indiatimes.com/entertainment/regional/tamil/news-interviews/Wish-singer-SPB-on-his-birthday-today/articleshow/20423902.cms?referral=PM
http://www.thehindu.com/features/friday-review/music/article595994.ece
http://www.etvpt.com/Host.aspx
http://www.indiansingers.net/spbalasubrahmanyam.htm
http://www.deccanherald.com/content/201139/of-soulful-strains.html