As a change of pace, I thought I would blog this week on a topic that I've frequently touched on, but infrequently delved deep into: Cinema. Specifically, today's post is a  Review of a classic Telugu Film–and NTR opus–known as Paathaala Bhairavi.
Listed as one of the 100 Greatest Indian movies by IBN and one of India's four entries in its first International Film festival, it has comedy, romance, action, and yes, even a tantrikudu (practitioner of black magic).
In many ways, this film was a trend-setter. It was among the first Telugu, and possibly even Indian movies, to have a high production value with impressive sets and what was, for the time, notable special effects (courtesy of Anglo-Indian cinematographer, Marcus Bartley). But what truly makes this film memorable, was the literary material, dramatic structure, and the acting.
While Maya Bazaar truly remains a gem, Paathaala Bhairavi is significant as it is based off of the Burrakatha tradition of AP. While the story is set in the ancient city of Ujjain (just North of the Vindhyas), it emerged as a legend even in our native Andhra and served as the literary basis for the movie.
In that sense, what makes this cinema worthy of mention in our Andhra high culture (as opposed to our mass "phillims") was that even though it did not emerge directly from our religious epic tradition, it managed to weave various traditional themes or rasas like Sringara (the romantic) & Bhayaanika (the fearsome) in the context of our cultural and civilizational tradition and setting–as well as recount an engaging story.
The song: Paapam Pasivaadu is emblematic of this, as the hero, Thota Raamudu–played by NTR–is upset after being rebuked by the King for seeking the hand of Princess Indumati (played by Malathi), and foolishly agrees to take the help of a left-hand Tantrik to prove himself worthy of Indumati and gain the riches demanded by the king. In that sense, it shows how the naivety of the well-meaning can be exploited by the adharmic.
The black magician (memorably played by the inimitable S.V. Ranga Rao), of course, has his own agenda, and misleads Thota Raamudu for his own gain.
Relangi provides his endearing brand of self-deprecatory comedy to further season this already fine broth.
The movie even inspired Hindi remakes, but for good reasons, rather than the usual ones…It also starred our own Andhra ammayi Jayaprada as the heroine.
All this may be well known to you all. Less known, however, are some of the quality Romantic couplets suavely delivered by a clever NTR (translation provided by yours truly). Telugu romantic poetry –as opposed to kitschy cine dialogues and songs–in our era has not received its proper due. However, as Paathaala Bhairavi demonstrates, our versatile language is no slouch in Sringara rasa. See for yourself!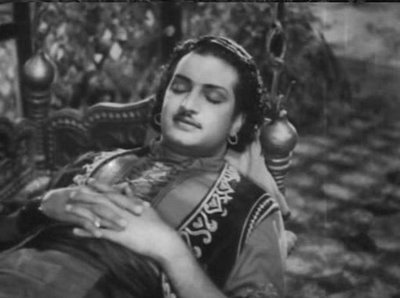 Aaha Rajakumari, mee kosam intha thapinchi pothaanani elaa telusthundi
Naa prema sandesam elaa telupu kogalanu
Nuvvu vihaarani ki ragaanne naa premane parimalinchamani puvvuluni adigaanu
Naa valupuney veddajallamanni malayapavanamuni vedukunnaanu
Naa anuraagaani theeyaga paadamani koyaluni brathimaalakunaanu
Nee soyagaaniki johaaru chesaanu
Oh princess, how would I have known that I would have longed for you as such
How could I have conveyed my message of true love
When you became the hunter of my sentiment, my love blossomed with fragrance
Besotted, I requested the spring winds to sprinkle my romantic air
I called upon the cooing cuckoo bird to sweetly coo of my affections
And thus, I surrendered before your beauty
So for those of you who didn't know you could charm your sweetheart with some Telugu poetry–"Thappu thappu". All you budding lotharios out there may want to take notes from an old master…
Other famous dialogues include a popular line from AP college campuses as late as the 1970s: Rajakumari, Nijam cheppamantaaraa abhadham chepamantaaraa
In any event, Paathaala Bhairavi is a classic Telugu movie that is definitely deserving of an updated modern remake, CGI and all.
Cast:
Thota Ramudu – Nandamuri, Taraka Rama Rao (NTR)
Princess Indumati – Malathi
Tantrikudu (Nepala Mantrikudu) – S.V. Ranga Rao
Paataala Bhairavi – Girija
Anji – Balakrishna
King of Ujjain – Chilakalapudi, Seetha Rama Anjaneyulu
Prince – Relangi, Venkata Ramaiah
Release Date:
15 March 1951 (India)
Produced by
Chakrapani & B. Nagi Reddy
Music by
Ghantasala & Venkateswara Rao
Cinematography by
Marcus Bartley
Art Direction by
Madhavapeddi Gokhale
Color:
Black and White
References:
http://www.dff.nic.in/iffi.asp
http://www.imdb.com/title/tt0043908/?ref_=nm_flmg_wr_4