Let us face the facts, Indians are Talkers, not Doers. As usual, Andhras are the worst example of this.
We can talk for hours on end, over tea, over toddy, over tokkudu ladoo—but what does it matter, still we are stuck at square one. We complain about current events, we complain about family, we complain about how other people are better at things—but what do we actually do about it?
The enemy can declare his intentions, he can even begin subverting a government, he will even declare he has no obligation to secularism, but still our people will only talk…
Our people are such pathetic talkers they will even continue just talking even after getting all enthused about doing. Hyperventilating in a paroxysm of excitement, the talk itself becomes cause for celebration. To them sloganeering and rhetoric or even reading alone = accomplishment…but they should remember that wasn't the lesson of the Gita.
But why take my word, that of a mere mortal, when the greatest Karma Yogi of all Himself explained thus:

Famous Talkers who weren't Doers
Since the dawn of history, India has had no shortage of talkers. In fact, Satyajit Ray famously directed a movie on our dreaming "Chess Players":
Based on the novel by Premchand, this exquisite cinema demonstrated how many zamindars and rajas of the time famously talked and played petty games in their heads, instead of playing the real game of life.
Nehru
People may say Nehru was responsible for "building Modern India", but compare him to Vallabhai Patel, and it is the ultimate study in contrasts of talking versus doing. In one particular story, Nehru famously droned on and on, waxing verbosely on this and that while Kashmir was being invaded by a Pakistani tribal army, when an impatient Sardar finally interrupted and said "Jawaharlal, do you want Kashmir or not?". It was the Iron man who advocated for quick action, gained the instrument of Kashmir's accession, and sent troops to defend J&K. It was this same Sardar Patel who saved traditional Telugu land (what is now Telangana state) from the grip of Rizvi and his Razakars, while Nehru's talking and dithering nearly led to a cancer in the belly of India.
Nevertheless, even the prolix Nehru failed to hold a candle against India's most famous, or should I say infamous, talker of all time.
V.K.Menon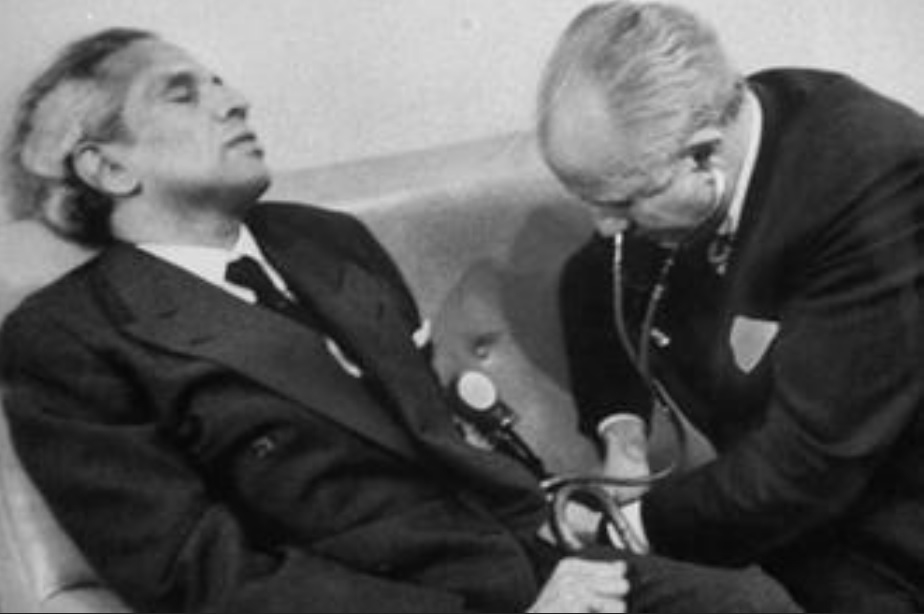 The pompously self-important and unjustifiably arrogant V.K. Krishna Menon is without a doubt India's worst defense minister of all time (though fellow Mallu A.K. Antony came perilously close).
Why does this man even have a statue? His most "impressive accomplishment" was famously (infamously?) giving an 8 hour speech at the UN Assembly. Just what was he hoping to accomplish with this nonsense?! In fact, he more than anyone else represents this disease of chat-alysis that plagues our people. Had he spent less time talking and insulting India's generals and more time preparing for inevitable hostilities against Mao, perhaps India might not have been humiliated in the 1962 War.
So we know Indians are talkers rather than doers, but why is this the case?
The problem with habitual talkers is that they are so caught up in their own assumptions and rationalization, that they fail to realize that somebody actually has to implement.  Worst of all, by talking all the time (giving away their vulnerabilities to the enemy), they rarely know the value of silence.
Beyond not knowing the value of silence,however, a lesson that can be traced back to the Panchatantra ("Silence is Golden"), there are certain characteristics of the Modern Indian that stand out:
Lack of focus/seriousness
The Chetan Bhagat and Happy Days approach to problem solving may make life seem straightforward, but the reality is, the issues of the world cannot be solved with a simple song, poem, or thought. Furthermore, as Krishnarjun gaaru wrote in his excellent piece on Dharmanomics, far too many NRIs rely on mindless application of B-school frameworks. It must be recalled that irrespective of how well-intentioned many of these people may be, surface level analysis simply won't cut it. And it should also be remembered that the road to hell is often paved with good intentions.
Furthermore, we consider talking or tweeting itself some sort of accomplishment. Rather than launching a successful institution or organization, we judge our success by the number of followers or facebook "likes" we get.
Additionally, our Twitterati style themselves as unquestionable Gyaanis. They imagine themselves doing a global service with their peer-edited encyclopedia pontification–because you see, copying and pasting something one doesn't understand in order to sound profound is a productive and meaningful use of everyone's time…
Worst of all, is the modern Indian approach to debating. The Children of Adi Sankara, Mandana Misra, and Ubhaya Bharata have fallen far from the tall tree of those days. To the modern ("Global") Indian, debating is a means to entertainment ("arey time pass, yaar") rather than ascertaining truth. Ironically, the idea of ascertaining the truth is at the very heart of the definition of the word dialectics.
Jealousy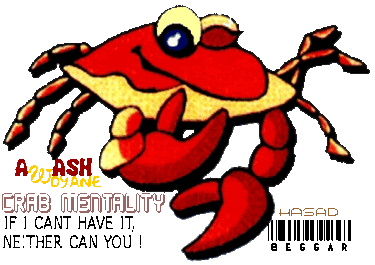 The famed Indian crab-mentality is without equal in this world.
If we can't get it, do it, or benefit from it, we'll be damn certain no one else can. We go to great lengths to tear down our own people. Andhras, of course, are the most famous at this–a characteristic likely dating back to Maharishi Viswamitra's curse that his sons (who became the Andhras) be afflicted with perpetual infighting. This was seen again and again with the Rachakonda Rajas, the Araveedus, and the Madurai Nayaks.
However, one of the great tragedies in Medieval Indian history was not so much the obvious (Turk atrocities on civilians) or the oft-mentioned (destruction of Somnath), but rather, the little-known (Lahore). The great city of Lavanapura had an ancient lineage that dates back to the Ramayana. While it had eventually been taken by the Ghaznavids, it  came tantalizingly close to be recaptured by the Rajputs.
Indeed, while the current historical paradigm is slowly reconciling itself to the stout resistance to and even roll-back of invaders (courtesy of India's Kshatriya houses as evidenced by the Battles of Rajasthan and Bahraich), less but steady light is now being shed on efforts at reconquest. The most notable of these efforts took place once the Ghaznavid invasions had been halted. In fact, the fractious Rajput clans actually invested the city of Lahore (then under Turkic) rule. Just as the city was on the verge of recapture, however, the squabbling Rais and Rajas called off the nearly successful siege. Why you ask? Not because of Turk reinforcements, or issues back home, but because they couldn't agree on which petty ruler would keep the city. This crab mentality is emblematic of the costs of short-sightedness.
Selfishness
Everybody wants to be the big deal guy. More tragically, this is not even a question of being the best among peers, as our people are terrible at merely encouraging the next generation of talent. Even if there is no interest or the person seems rather naive, young people must at least be encouraged. But no–our gyaanis are far too concerned with advancing their own immediate agenda and preserving their cloistered little worlds of privilege. After all, God forbid anyone else outshines them.
The Madurai Nayaks are perhaps the most tragic example of this. At a time when the Vijayangara empire was in its greatest need, rather than coming to the aid of Raya, they actively encouraged the Bijapur and Golkonda rulers to invade. Why, you ask?–in the hopes that these self-same petty rulers could selfishly rule without Imperial overlord. But you see, this is the price such selfishness–because these same rulers stupidly dug their own graves, as the very sanguinary potentates they treacherously encouraged eventually turned on them and extinguished their piddly dynasty.
This is the cost of Ambition. Ambition is nothing more than burning a picture to collect the ashes.
Sometimes this selfishness also masquerades in the guise of selflessness. Those very men who pass themselves off as "men of conscience" are simply looking for excuses not to act–either out of attachment to their friends/loved ones, or even to a deluded idea.
Delusion
"Sab kuch chalta hai"
"Let them bark! Who cares!"
and WORST OF ALL: "Someone else will do it" or its latest incarnation ("Acche din aanewale hai!")
In a previous piece I wrote at length about how moha is attachment rooted in the mistaken thinking that we are the body. But moha is also pure delusion–or stupidity. In nowhere in the world is this characteristic greater than in India.
 Mindlessly repeating "acche din aanewale hai' like a parrot, won't make it so. Even the most patriotic politicians can only do so much and have their own constraints. This slogan cannot be seen as some magic "mantra" that will free you of your cares  so you can go back to playing in your irrelevant, and eminently un-serious world.
The cult of personality must cease henceforth. We all sit around hoping for a Shri Ram or Shivaji , but they had their lieutenants and allies to help them too. Most of all, they built/maintained institutions that recognized and rewarded loyalty and talent. You too must do your part as well, as Ram Raj was not built in a day .
You must do your part. No one is saying you have to take a vow of celibacy and become a new Adi Sankara, but for God's sake, do your fair share to contribute to the civilizational cause…even 15 minutes a day learning/teaching dharma, preserving/building from/beautifying our samskruthi(i.e. Artist Keshav), or at the very least, support those who do (and keep your word). Above all, you must pay attention!—because even the best intentioned can still make mistakes.
Worse, there are others who weren't even concerned about the past election, and feel no concern about the state of affairs and the barbarians within and without.
"Why would this happen?—this is all in past! Think of future!"
"Arey this is new era, we are new generation!!"
"Be progressive! Be Human first–why should we care of these regressives!!"
You should care, dummy, because this is what Razakars and Pakistanis did, this is what they are doing, and this is what they are planning to do. So wake the hell up and get your stuff together, you lazy bag of bones!
When our alliances mean nothing, when our promises mean nothing,when our actions equal nothing, then not only do you not have the right to complain, you don't even have the right to talk…because your inaction, dereliction of duty, and even criminal negligence is the reason why your enemy gets stronger by the day in your own backyard.
…but yes, do go back to raving about how "Pawan is God", how you are a Mahesh bhakt, or how your particular "caste is shupremely powerful"…just remember to fold your chairs and turn off the lights when the enemy comes to carve you up…
Knowledge without strategy is fecklessness, Strategy without knowledge is foolery. Action without aim is witlessness, Talk without action is buffoonery.
But for those of you who still do have some sense, who recognize that thinking and talking must be followed up with action, remember this wisdom. And if you yourself do not have the time to facilitate positive change, at least learn from those who do and support them: