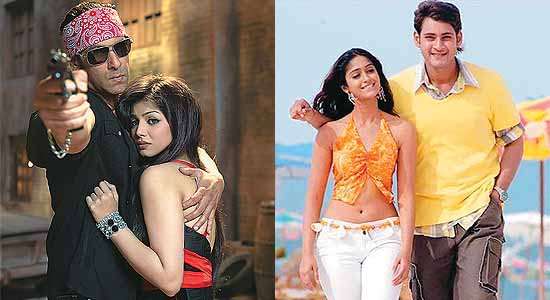 One of my least favorite, but most often read, e-zines is Outlookindia. Ever declining in readership and ever subsisting on the patronage of political masters, it nevertheless gives us a pulse on India's misguided and misanthropic english speaking "elite". Their policies self-deluding, their writings self-laudatory, and their motives self-advancing, I've typically found Outlookindia staff writers distasteful and unimpressive, and their obligatory titular puns, downright regurgitory.
However, I do agree with them on one point, and that is the utter drivel (generally) being churned out of the Indian film industry–and for our purposes, Telugu film industry in particular.
Don't get me wrong, I understand a certain degree of escapism is needed for India's benighted, ill-governed, and neglected masses. But for God's sake, let's add a dash of culture. The great tragedy in indian cinema right now is rather than an (dharmic) elite influence on mass tastes, we have mass influence on elite tastes. Outlook recently did piece on this very topic, about how Madrasi (cause we all speak tamil…n'est pas?) Movies are influencing Mumbai…in all the wrong ways.
Hindi films have thus recently been dominated by a spate of remakes from the South such as Ghajini (produced by the Allu-Konidela clan), Singham, and Rowdy Rathore (inspired by Andhra's own, Vikramarkudu). While I'm all for cross-Vindhya cultural intercourse, this is not what I had in mind.. .
Most jarring of course, is the shameless, wholesale importation of non-telugu belles who don't speak a word of the language and who condescendingly view the industry as a minor league for the Bollywood item-dancing majors. It's one thing if the actress makes an effort to learn the language and appreciate the culture while she's here, quite another if she's just there to cash a cheque and sulk in her trailer. How can the subtleties of Telugu be communicated by a dubbed debutante whose greatest accomplishment is mastering the left-turn on the runway?
Artistes with mastery of language and classical dance and drama training should be driving cinema, not factory manufactured, celluloid mannequins with interchangeable parts (that was a dig at rampant plastic surgery).
I am aware that there are certain aspects of the modern industry that understandably cause Andhra parents to discourage their daughters from acting, but Telugu producers, please raise your standards, and Telugu directors: Please make more Art and less Kitsch!
To be fair, of course, there have been some decent films here and there of late. Happy Days, for example, wasn't bad (I am grudgingly admitting this), and Nagarjuna is single-handedly showing India how actors should progress artistically,  but we need more movies like Leader, with a crisp story, minimal song and dance sequences, solid acting, and an inspiring message. Big budgets tend not to  frequently go to Shatranj ke Khilari's, so I understand the exigencies of the entertainment industry, but if we're going to send something beyond AP, why not something more like Magadheera? Yes, I know there was a fair bit of kitsch in the Chiranjeevi homage sequences, but it was balanced by a compelling historical storyline and magnificent CGI. Alas, 4 years later, we're still waiting for the producers to send Andhra's best up North.
So, while the Tollywood die-hards (usually born some time around 1990) may preach the many virtues of Mahesh Babu masala flicks and rave about a future Gabbar Singh 2, I will be eagerly and exasperatingly awaiting the arrival of an Andhra Satyajit Ray…
Readers (yes, google analytics tells us you quiet masses are reading daily–in surprisingly large numbers) are welcome to comment and disagree...just don't tell me Pokiri is the "Maya Bazaar" of our times…