Hello Everybody! After long time, I am back to blogging. This month's topic is very close to my heart. In fact, it is one of the most important aspects of being Telugu today…
Fashion!
I am a big fan of sarees, but above all this week's special: Venkatagiri Sarees. This variety  will feature as the first in Spotlight on Andhra Sarees–a multi-part series.
Venkatagiri  is the Saree of Queens. They are considered some of the most soft, opulent, and long lasting. Eye catching and frequently imprinted with golden designs and borders, it truly is the saree of Maharanis. In fact, they are known to have been patronized by the Velugoti dynasty of Nellore, where it originates.  It is the saree for both the traditional and the trendy.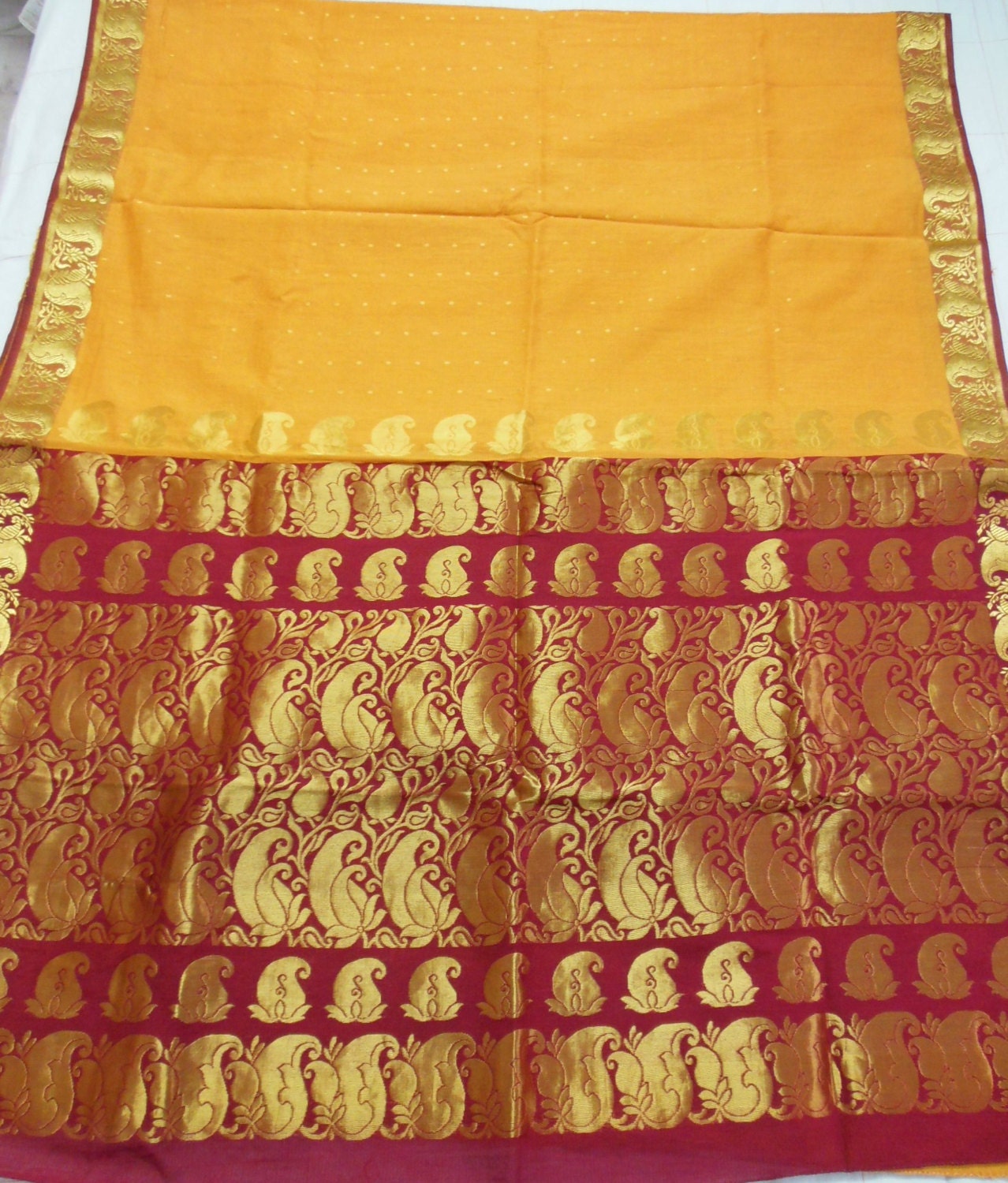 History
Venkatagiri is a village in Nellore District, about 100km away from the town of the same name. The saree variety originates from here. They officially date back to the 1700s, but likely go back much further to the ancient period. They were initially made only for the Royal families, and that too, on special order. Originally called "Kalimili", the locality was given its present name after the conquest of Venkatadri Naidu. Venkatadri was Sri Krishnadeva Raya's representative. The handloom industry here is powered by the expert skills of the Padmasali, Devanga, Pattusali, and Karnasali castes of the village.
Varieties
There are three main varieties of Venkatagiri sarees: Venkatagiri 100, Venkatagiri Pattu, & Venkatagiri Silk.
Venkatagiri 100 is the lightest of the three, and so, can be worn year round.
Pattu are thread woven, arranged with a Jari border, and incorporate floral motifs.
Venkatagiri Silk are a new style that uses the silk techniques originating in the old United Bengal region of historical India.This has become very popular in recent years. Sarees are thus woven in cotton, cotton and silk mix, and pure silk. The thread count of the fabric is what gives this variety its softness.
Characteristics
Soft
Durable
Light-weight
Crisp, with opulent, golden Jari borders
It is a saree for every occasion, whether special events or every day. There are all sorts of types and price ranges. It gives a dignified look and covers all age groups.  Venkatagiri sarees are truly timeless, and fashionable in any era–from ancient to modern. It is, without a doubt, my favorite saree and unequivocally gets the Velugu Thalli stamp of approval.
Iddhi padaharu annalu Andhrula aada bhadachu kattey cheera
"This the marquee saree of the dignified Andhra lady"
or as I liked to call them, "The Saree of Queens"
References